2022–2023 Partner & Sponsor Opportunities
MAKE AN IMPACT...and have fun doing it!
You love animals. We love animals. Your customers love animals. Joining forces is a win-win-win.
Annual partners, event sponsors, and program sponsors will help the Humane Society of Sarasota County (HSSC) save the lives of more than 2,700 cats and dogs this year and enrich human lives along the way. As the area's premier no-kill shelter, HSSC engages the hearts, hands, and minds of the community to help animals. Did you know that HSSC receives no federal funding, nor are we part of any national humane organization? It's true. We rely solely on contributions from individuals, corporations, and foundations.
With the help of partners like YOU, HSSC transforms your donations into actionable, effective programs and services that directly benefit dogs and cats and the people who love them.
WHY PARTNER?
Enhanced Visibility: Statistics say that 88% of Americans will support a company that supports a cause. By partnering with HSSC, you'll enjoy increased visibility through our marketing channels, which are filled with tens of thousands of engaged followers. Your good corporate social responsibility will be on full display, and you'll appeal to our slice of the 90M pet-owning U.S. households.


Local Impact: HSSC has been your local shelter since 1952, so it's no understatement to say we have deep roots in our community. We recently completed an $8.5M renovation and expansion project, adding 20,000ft2 to our facility and doubling down on our commitment to being the area's premier no-kill shelter.


Solid Investment: We have earned the coveted 4-star rating from Charity Navigator for six years straight, and we are the only animal welfare organization in Florida (and one of just eight in the nation!) to have a perfect score. You can trust that HSSC will use your donations wisely.
LEARN MORE
Download the 2022-2023 Partner & Sponsor Packet (PDF) for complete details. Questions or to get started: Contact Jaime Limoges at 941.955.4131 x103 or [email protected]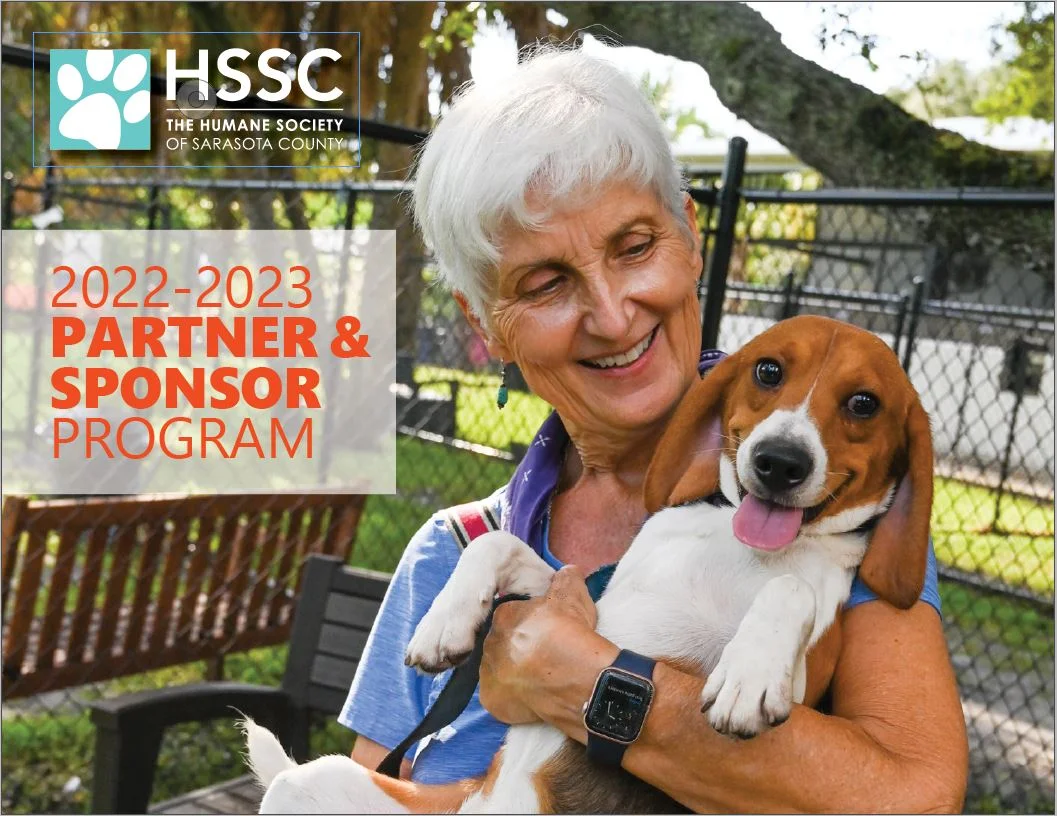 How to Partner
There are three partner and sponsor tracks. Choose one path or all three. All partnerships and sponsorships in effect October 1, 2022, through September 30, 2023.
Annual Partnership ($5,000+)
Event Sponsorships ($1,000-$10,000)
Program Sponsorships ($10,000)
Partnerships and sponsorships come with fantastic perks, including logo recognition on HSSC's website, social media, and print and digital publications. For complete details, click the link below.